Sign up to find out more about Russian Snark.
About the film
Status: In release June 16th, 2011
Contact: info @ godzone.co.nz
+64 9 950 3910 www.godzone.co.nz
Russian Snark on the web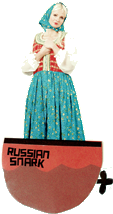 Nadia's Blog 'The Artist's Muse' Check out Nadia's blog to see what she's up to now!

Russian Snark on Facebook Check out the crew shots and see how the film was made by becoming a fan of Russian Snark on Facebook. Like us today!

Liz on Twitter Find out about the latest releases and developments, follow Liz the films' producer on Twitter.